Do I need Cosmetic Dentistry?
Are you unhappy with the appearance of your teeth? Do you dream of having a brighter, straighter, and more attractive smile? If so, cosmetic dentistry may be the solution you've been looking for. At Black Hills Area Dental, we offer a range of cosmetic dental services to help you achieve the smile of your dreams.

Do you have…
Stained or discolored teeth
The enamel that covers the teeth isn't impervious to stains and the underlying tooth structure (the dentin) often yellows over time. As long as the teeth are healthy, it's easy to eliminate stains by applying a bleaching agent.
Black Hills Area Dental can reshape the tooth so that it's more aesthetically pleasing.
If a tooth has been badly broken or is structurally weak, you may need a crown. Crowns used to be made of metal, but today they're often made of tooth-colored porcelain materials.
Small gaps can be closed by applying composite material between the teeth. For large gaps or other imperfections on the surfaces of the teeth, Black Hills Area Dental may recommend veneers.

What to expect at your cosmetic dental consultation
During your cosmetic dental consultation, Dr. Samuelson will work closely with you to determine your specific needs and goals. Whether you're interested in teeth whitening, bonding, enameloplasty, veneers, Botox, or a complete cosmetic makeover, we have the expertise and technology to deliver exceptional results.

Teeth Whitening
(Take Home And In Office)
Teeth whitening is a popular cosmetic dental service that can dramatically enhance the brightness of your smile. Our take-home and in-office whitening options are safe, effective, and convenient.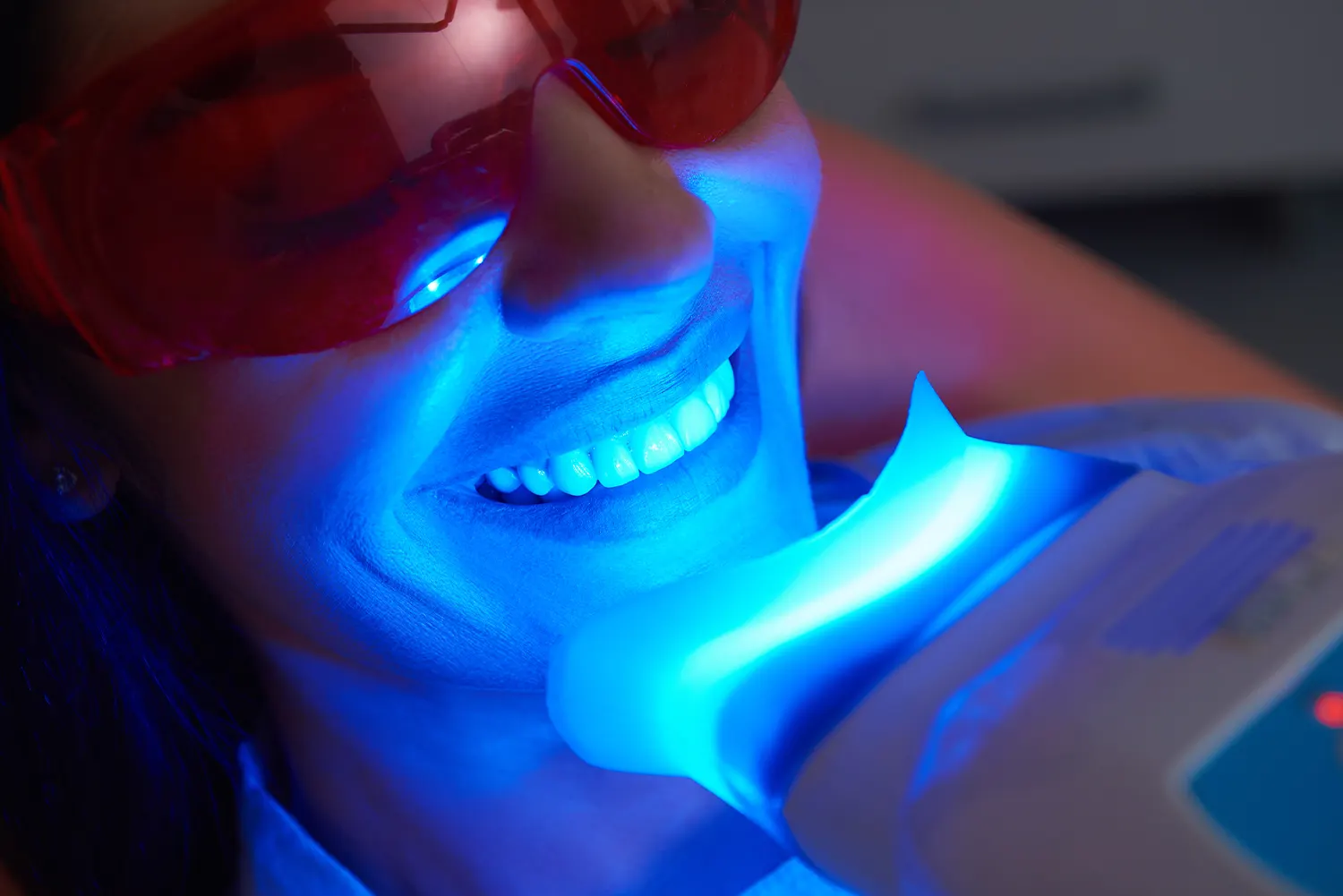 Bonding is a simple and cost-effective solution for repairing chipped, cracked, or discolored teeth. Using tooth-colored resin, Dr. Samuelson can reshape and restore your teeth, giving you a more uniform and attractive smile.
Enameloplasty, also known as tooth reshaping, involves removing small amounts of enamel to improve the appearance of misshapen or overlapping teeth. This quick and painless procedure can create a more harmonious and balanced smile.
Veneers are thin, custom-made shells that are bonded to the front surface of your teeth. They can transform the shape, color, and alignment of your teeth, giving you a flawless and natural-looking smile.
Botox is a cosmetic treatment that can be used to reduce the appearance of wrinkles and fine lines around the mouth and lips. By combining Botox with our other cosmetic dental services, we can create a more youthful and rejuvenated appearance.
If you're looking for a complete smile transformation, our cosmetic makeovers are the perfect solution. Dr. Samuelson will develop a personalized treatment plan to address all of your aesthetic concerns, giving you the smile you've always wanted.
Rapid City Cosmetic Dentistry
Why should I consider cosmetic dentistry?
Cosmetic dentistry offers more than just an improved appearance. It can also boost your self-confidence and improve your overall oral health. When you feel good about your smile, you're more likely to take better care of your teeth and gums, leading to better long-term oral health outcomes. Additionally, a beautiful smile can have a positive impact on your personal and professional relationships, as it can make you appear more attractive, confident, and approachable. So, if you want to enhance your smile and enjoy the benefits that come with it, cosmetic dentistry is definitely worth considering.
What is cosmetic dentistry and how can it benefit me?
Cosmetic dentistry refers to dental procedures that aim to improve the appearance of your teeth and smile. It includes treatments such as teeth whitening, veneers, dental implants, and orthodontics. Cosmetic dentistry can benefit you in several ways. It can enhance your self-confidence by giving you a more attractive smile. It can also improve your oral health by fixing dental issues like misaligned teeth or gaps. Additionally, cosmetic dentistry can help you maintain a youthful appearance and make a positive impression in both personal and professional settings.
Ask About Our Take-Home Whitening Trays

 The "home" techniques involve making trays which fit into the mouth and these are then filled with bleaching materials.
When worn for a few hours a day, noticeable results are seen generally within a few days to a couple weeks. Results vary from individual to individual, Dr. Samuelson will be happy to to help you decide which method works best for you. Some of the factors involved include the intensity of the stains, whether or not you have fillings or crowns on your front teeth as well as what may have caused the stains.
Ask us about our whitening for life program!
Ask About Dental Veneers As A Solution

Dental veneers (sometimes called porcelain veneers or dental porcelain laminates) are porcelain, and custom-made tooth-colored materials designed to cover the front surface of teeth. These are bonded to the front of the teeth changing their color, shape, size or length and resulting in an improved appearance.
Dental veneers can be made from porcelain or from resin composite materials. Porcelain veneers resist stains better than resin veneers and better mimic the light reflecting properties of natural teeth. Resin veneers are thinner and require removal of less of the tooth surface before placement. Dr Samuelson will go over the best cosmetic options for you.
BOOK YOUR APPOINTMENT TODAY